The River Rogues Jazz Band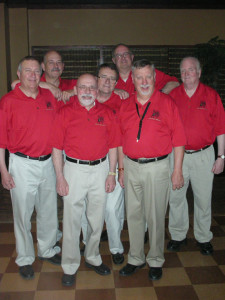 The River Rogues Jazz Band pursues the energy and soul of traditional jazz, which began in New Orleans, traveled up the Mississippi, spread throughout the U.S. and then around the world.
Formed almost twenty years ago, the Rogues have been entertaining audiences with their mix of quick-steppin' stomps to slow moanin' blues.
The group features both pleasing ensemble harmonies and standout solos with the likes of members
Jim Everhart on piano
Dave Kadwell on banjo and guitar
David L. Wells on trombone
Ken Huisman on clarinet and sax
Dave Schock on trumpet
Paul Keen on tuba
Tom Davis on drums
Over the years The River Rogues Jazz Band has performed for impressive venues such as, but not limited to:
The Grand Rapids Symphony Summer Outdoor Pops Series at Cannonsburg (pre-show opening act)
The West Michigan White Caps (pre-and-post-game featured entertainment)
The Grand Rapids Griffins (pre-game featured entertainment)
The Lowell Showboat (featured entertainment)
The West Shore Jazz Society Summer Series (opening act seven years running)
The 2014 Elkhart Jazz Festival
The Grugelfest 2014 Dixieland Band Festival in Toledo, Ohio
The Gilmore Collection of restaurants
Social Events for some of the largest companies in West Michigan
Social Events for families (like yours!)
Learn more about the Rogues – check out our individual bios!