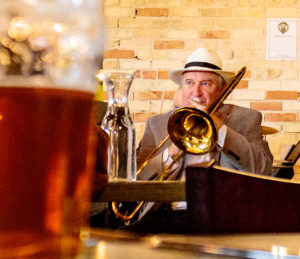 David L. Wells
Dave is a retired band director for the Northview Public Schools. Wells is currently the music director for the Rogues as well as leader of The River City Jazz Ensemble big band, The Northview Community Band, The Dave Wells Strolling German Oompa Band, and The Ein Prosit German Band. Besides being a freelance trombone performer, he is a published composer and arranger. Visit https://www.reverbnation.com/musician/davidwells
---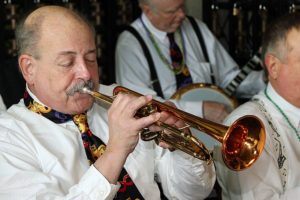 David Schock
David is a frequent jazz performer in West Michigan. He has played with the Bruce Early Big Band, the Truth in Jazz Orchestra, and his own eponymous group, Schock Effect. A writer and filmmaker, his latest book is Judicial Deceit; Tyranny and Unnecessary Secrecy at the Michigan Supreme Court. His latest film is The Road to Andersonville; Michigan Native American Sharpshooters in the Civil War.
David holds a bachelor's degree in religion from Albion College, a master's in journalism from Central Michigan University, and a doctorate in creative writing and literary criticism from International College (where he studied with Russell Kirk). He also has completed post-doctoral studies in telecommunication at Michigan State University. He taught for 20 years at Central Michigan University and Hope College.
Dave currently plays trumpet, cornet, and flugelhorn with the River Rogues.
Visit: https://www.reverbnation.com/musician/davidschock
---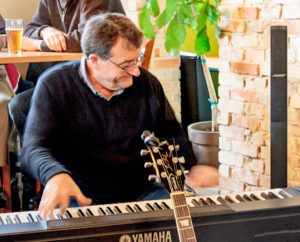 Jim Everhart
Jim has played his piano in local and regional venues for over 45 years. In the early days Jim played organ and keyboard for several rock and roll bands, including the Ramrods. His interest expanded to traditional dance bands, then jazz and novelty offshoots like sing-a-long environments.
He founded musical ensembles in each niche: The Epsilons, The Magic Toyshop, The Gentlemen of Ragtime and now the fabulous River Rogues Jazz Band. This is a hot brand of traditional New Orleans style jazz.
Visit: https://www.reverbnation.com/musician/jamesjimeverhart
---
Paul Keen
Paul has demonstrated his ability to play his trombone and tuba in venues from the east to the west coast. His musical career gained prominence with his first recording session in Los Angeles for Hanna-Barbara Studios. Subsequently, Paul has played on the soundtrack for 147 motion pictures, 1200 cartoon episodes, several television shows and record albums. His education credentials are impressive and his performance brag book of notables are more impressive: Buddy Rich, Louis Bellson, Don Ellis and the Stan Kenton Orchestra.
Paul currently plays his tuba with the River Rogues
---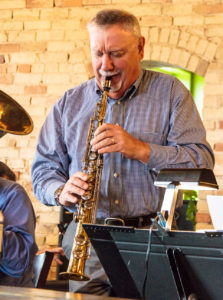 Ken Huisman
Ken Huisman, a professional musician since 1963. After a two-year stint with the 79th Army Band in Panama, he performed a solid schedule of club dates, including big band venues, trios, orchestra positions and jazz combos. His brag book includes: Arthur Fiedler, Ray Price, Boots Randolph and Sonny Stitt.
Ken was a musical instrument technician for 43 years until his recent retirement. He currently plays the clarinet and sax for the River Rogues.
---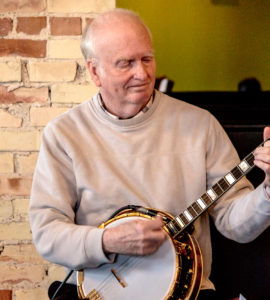 Dave Kadwell
Dave acquired an old banjo during his military tour of Vietnam. Dave had played guitar as a kid but it was while overseas that he developed a deeper passion for stringed instruments. After his discharge, Dave became a featured banjo player for the Village Inn Pizza Parlor, a job that lasted for two decades.
Dave has played for many bands and musical ensembles performing for festivals, corporate events and much, much more.
---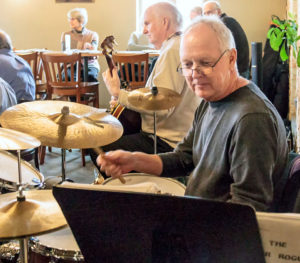 Tommy Davis
Tom has toured and performed with such musical luminaries as Roy Clark, five time Grammy winner, Clarence "Gatemouth" Brown, B.B. King, The Oak Ridge Boys, and Barbara Mandrell to name a few. Tom has played in all areas of the U.S. & has also been fortunate to perform overseas at the Montreux Jazz Festival in Switzerland, Brussels, Belgium, and London, England.
Tom was also part of a musical foreign exchange between the United States and the Soviet Union in 1979 and spent six weeks touring various Russian cities. He has appeared twice on the popular PBS series, "Austin City Limits" with two different artists, the "Hee Haw" series on syndicated television in the U.S, and has also performed on European and Russian television. Tom takes pride in his musical skills, which he credits to the diversity of talented musicians he has been able to perform with.